The PlayBook Application Manager plugin for Chrome plugin, once installed, accesses a device in Development Mode and allows deleting and installing of applications.
Basic Requirements
Using this method to access your BlackBerry 10 device obviously requires the Chrome browser on your computer, and the installation of the plugin from the Chrome Web Store. Once the plugin is installed, users can access their BlackBerry 10 device by first placing the device into Development Mode, then opening the plugin's Options page (shown below).
The plugin can also be installed on Opera 15+, although it requires an Opera extension to allow installing Chrome plugins. The Download Chrome Extension plugin can be found at Opera's extensions site.
You can also use the plugin as a Firefox extension, and this requirs some additional configuration as well. All of the relevant information can be found at the developer's website.
Getting Started
You can access your BlackBerry 10 device either via USB or over a WiFi connection, but the correct IP address must be included in the device list.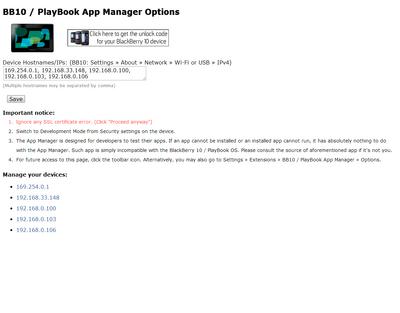 When you select the appropriate IP address for your device, the following screen will appear: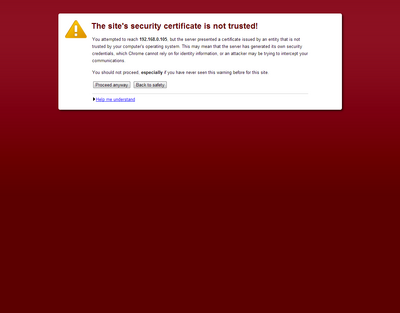 Since we can be confident that there are no security threats posed by the BlackBerry 10 device we want to access, click "Proceed Anyway" and we will be asked to provide the device password: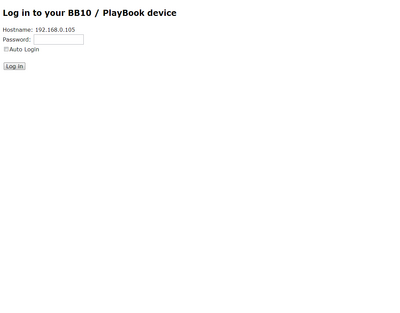 Using the PlayBook Application Manager
Once you have accessed your BlackBerry 10 device with the plugin, you will see a list of all the applications installed on the device.

The columns are self-explanatory, but include the Application Name, Version, Size, the source from which the application was installed, and a list of available commands for each application.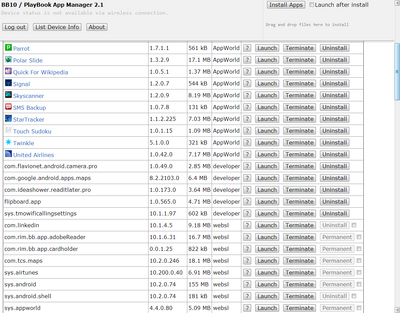 Applications installed with an OS autoloader will show their source as websl. Those applications may also be flagged as Permanent. Removal of any websl applications is recommended only for advanced users. Unless you know exactly what you're doing, we advise against modifying those applications.
New applications can be installed to your device by dragging them to the upper right-hand corner of the window. Once installed, those applications will show their source as developer. That, quite simply, is how applications are "sideloaded" to a device. The progress of all operations will be displayed in the upper left-hand corner of the window.